So, what is the best violin to buy and what you should know before making a purchase?
Buying a violin can be a real challenge and to an untrained eye, it can be very difficult to choose the right instrument. Although many violins may look alike, in reality,  there are many caveats that you might want to know about.
Here, I have created this guide to help you and show important factors that affect the quality, playability, and price.
Violin is an investment that can inspire and help in musical development and growth.
 Children often need instruments of different sizes because of their body types, level of interest in playing violin, and determination. Adults, on the other hand, mainly use 4/4 sized violin, because they have bigger hands and therefore, need a full size instrument. For this, we need to consider these unique circumstances when choosing the best instrument for you or for your kid. 
As a professional musician, I have encountered violins of different quality, ranging from poor to excellent, and here I would like to share my professional opinion on how to buy a good quality instrument and save your time and money by making you aware of the risks of buying a cheaply made violin. 
As a general rule, I recommend buying a violin from a specialized violin or music store, such as Fiddlerman or any other store that you trust so you know that the instrument was treated carefully and stored properly. 
Below, I have gathered a list of important factors you should consider when looking for a violin. 
Fiddlerman Concert Violin is  great for beginners and has deep, clear, and bright sound. You will definitely enjoy its sound and playability compared to more basic violins found elsewhere
The violin comes in all sizes and can basically fit anyone, from small kids to adults. 
This violin has carefully selected aged tonewood, dried for up to a minimum of 6 years, with real ebony fittings, the hand-applied varnish and balanced tone across all the strings.
It has one of the best " Despiau" bridges on the market which is hand-carved and fitted. 
The violin comes as an outfit and includes a violin case, bow, synthetic strings, shoulder rest, rosin, mute, cloth, and even a digital tuner.
Generous policy of hassle-free 45-day returns and lifetime structural warranty is a clear advantage that is hard to find elsewhere.
This gorgeous violin has solid hand-carved spruce and maple tonewoods aged and dried a minimum of 7 years. Compared to Fiddlerman Concert Violin, this instrument has precisely measured string height for better playability and a hand-rubbed, oil-based finish.
It will arrive ready to play out of the box and include all necessary accessories such as violin bow, strings, shoulder rest, rosin, cloth, and digital tuner.
It comes in 4 sizes: 1/4, 1/2, 3/4, and 4/4.
Most commonly D'Addario Kaplan Amo or Zyex strings are installed on this violin, whichever sounds better on the specific violin.
As usual, this violin has lifetime structural warranty and hassle-free 45 day returns.
This is a good and solid choice for beginner and intermediate players.
Best violins sold through Amazon
D Z Strad Model 220 Violin with Dominant strings, bow, case, rosin and shoulder rest - Open Clear Tone
This is one of the most decent violins sold on Amazon.com that has a good price-quality ratio and value for money, available in all sizes. 
It includes Dominant strings ( good value) and ebony fittings including pegs, tailpiece, chinrest, and end button with an ebony fingerboard.
It brings very warm, round tone, excellent playability, and deep sound.
 Many Suzuki and private violin teachers, including me, favor this instrument, its sound, and playability. 
Although this violin is not cheap, it would be a valuable investment in your education. 
Yamaha V3 Series Student Violin Outfit 4/4 Size
Yamaha is the most recognizable brand that makes high-quality musical instruments of all sorts.
The quality of the workmanship is excellent and even exceeds the quality of other brands offering hand-crafted traditional methods of fine violins.
This instrument has excellent smooth and mellow sound and superior playability characteristics
It comes with a case, bow, rosin, ebony fittings including chin rest, pegs, and fingerboard offering higher value than instruments in the same price range.
For a better tuning experience, it offers Wittner-style adjusters on all strings making it easier to fine-tune all four strings.
Primary factors to consider when choosing a violin
Sound quality and its tone = materials and craftsmanship
One of the most important factors is sound and its characteristics. We all enjoy the violin's sound and the beauty of its unique tone, which definitely inspires and helps children of all ages to develop their tone and technique and encourage them to practice more. It is important to understand that the sound quality is a direct result of the craftsmanship and materials used during the violin making process. Craftsmanship also affects the playability of the instrument. Ask yourself: Do you feel like you need to force your playing, or does the violin almost play by itself, metaphorically speaking? As an example, compare the ease of driving a car bought from a junkyard to driving a brand new Mercedes fresh off the lot.  The junkyard car may be harder to start and put into gear, while the Mercedes will provide a much more comfortable and effortless driving experience.
In general, as the old saying goes, "You get what you pay for."  This is especially true when choosing a violin.  Cheaper violins are generally made from lower quality materials and less precise craftsmanship.  On the low-end of the violin market, you may find instruments for as cheap as $50.  Bear in mind that violins at this price point are generally factory-made, not fine-tuned at all, and consist of inferior and fake materials that sacrifice quality for cost. Needless to say, these violins will only make you struggle and lead to frustration. For this reason, I do not recommend buying a violin for less than $300.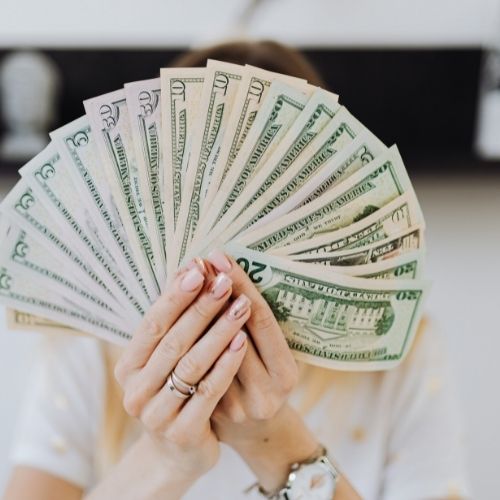 The right selection of wood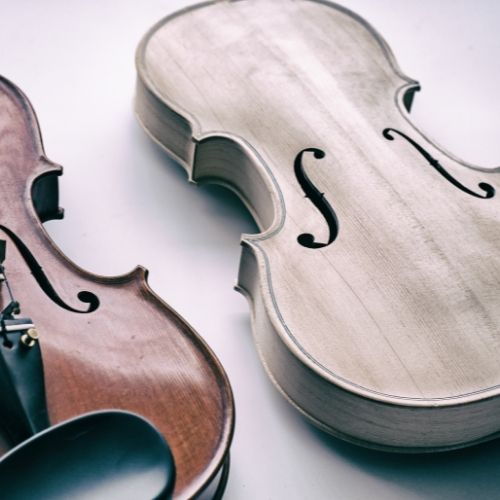 The right selection of the wood is one of the main aspects that influences the overall quality of the violin and its sound. Higher-quality wood comes from specific regions of the world that have a special climate where trees grow and produce a better sound. The wood is then selected, aged, and dried outdoors or in a well-ventilated space. The process of drying may even take years because the wood can not be dried in a kiln or in any other artificial environment. Some luthiers prefer to use stabilized wood in violin making in order to improve its physical and sound qualities. The stabilized wood is maximally freed from moisture and resin, which produces a more hollow sound and makes it stronger overall. On the other hand, wood with too much moisture and resin can dampen the sound and lock the vibrations inside its fibers. Stabilized wood is also treated with impregnating compounds, individually made and selected by a luthier to improve the transmission of sound. A good example is violins made by A. Stradivari whose secret recipe for stabilizing wood has yet to be discovered. His violins cost millions of dollars, increasing in price each year, which sounds unbelievable until you consider that his craftsmanship and wood-treating process is one of a kind. 
Violins come in eight different sizes, designed to fit anybody from age 4 or older. Before buying a violin you will need to measure your child's body and arm length to make sure that the violin will fit. In my opinion, the most common mistake that parents make is giving their child a violin that is too large for their body. A bigger instrument can make it inconvenient and uncomfortable to play, resulting in a clumsy violin hold and tension in your arms. It is better in any circumstances to have a smaller-sized violin compared to a larger-sized instrument. One of the easiest ways to determine the right size for your child is to place the violin on the left shoulder and extend the left arm. The violin's scroll should not exceed the wrist. To learn more about how to choose the right violin size please check out this article.
Choosing the correct size violin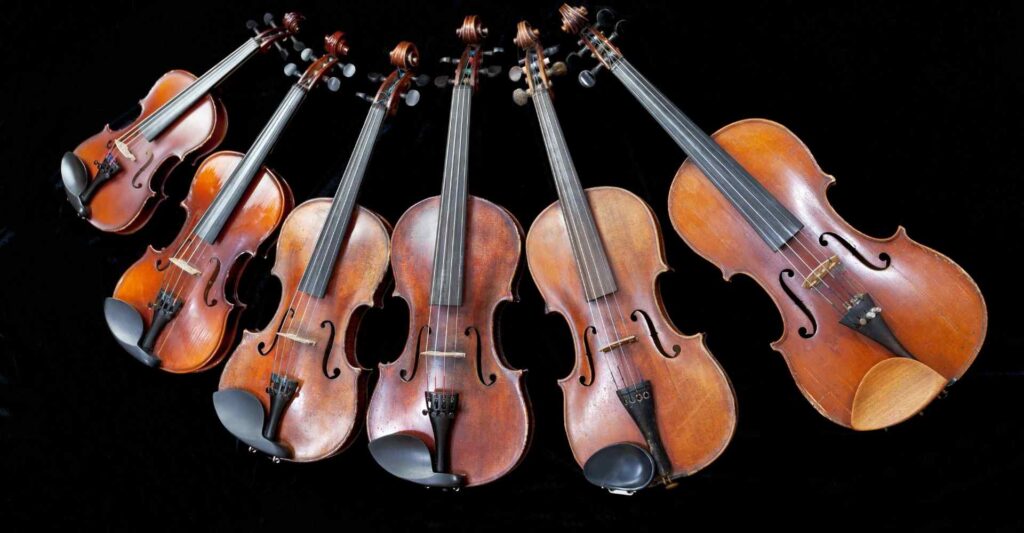 The fingerboard of a good quality instrument should be made from ebony, the hardest wood available, which will resist grooves from playing and the constant pressure of your fingers. Cheap fingerboards, sometimes even made from different types of wood and painted black, will develop grooves after time and block the sound.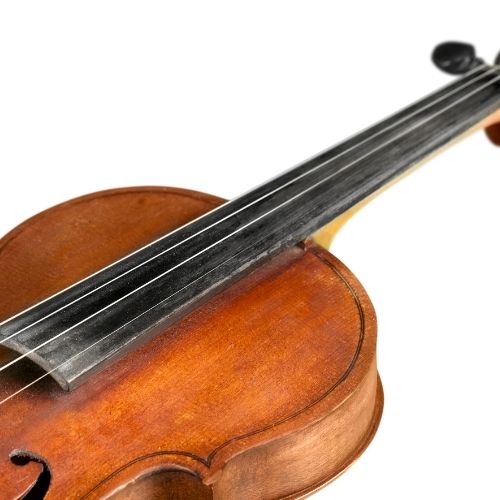 The bridge transmits the vibrations of the strings to the violin body and is the most important part that makes your instrument sound good. A good bridge may be responsible for up to 30% of the sound your instrument can make. The bridge is made from maple and has 4 grooves for the strings to support them. It should be individually fitted to your instrument, perpendicular to the body, in order to have the proper curvature, the right height, and be rounded on the side that faces the scroll. Otherwise, it will be barely playable — at least not in professional understanding. Bridges can vary in prices depending on the wood and quality and always have to be shaped, installed, and fitted by a professional luthier, which will ensure better sound quality, playability, and tone. When the bridge is installed incorrectly or not shaped at all, it will be hard to cross the strings while playing.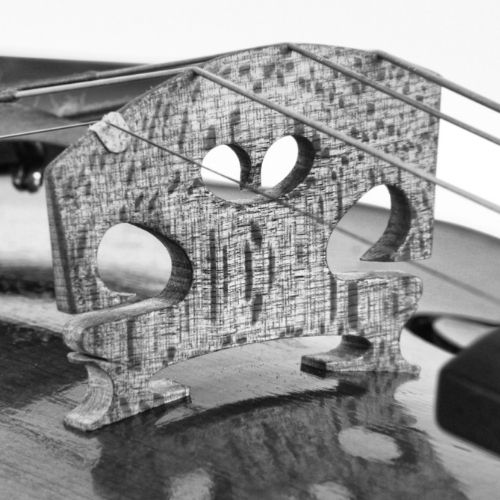 The pegs are made from ebony and are also fitted and shaped individually to fit the pegbox. Each individual peg should be lubricated with a special compound such as "Hill Peg Compound" to allow them to rotate smoothly and hold the pitch. You can also lubricate your pegs yourself if you have trouble rotating them. If you are interested, you can read more  here  about the process of making and fitting the pegs to the violin  https://trianglestrings.com/fittingpegs/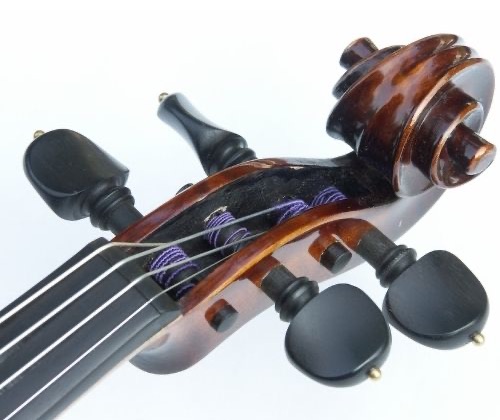 There are many strings on the market ranging from very affordable to the most expensive, up to $150. Strings can be made from steel, synthetic, and gut materials. 
Steel strings are considered to be more basic and they sound brighter compared to synthetic ones. They sound louder and have higher tension. They are very good for beginners but if you have a very bright violin you might want to consider synthetic strings.
Synthetic strings usually have a richer tone, deeper sound and colors, and can sound more interesting in terms of colors and shades. My favorite synthetic strings are "Dominants" and "Thomastik Vision Solo", which are very durable and last for a long time. Years ago I played on steel strings called Pirastro Chromcor and was satisfied with them for a long time till I bought a new violin that had more complex sound and tone, therefore, I decided to switch from steel string to synthetic. Synthetic strings can also produce bright sound and last for a long time.
Gut strings are mostly used in baroque music. They have a very rich tone but are not very suitable for classical music because they are very soft.