Step-by-step easy online violin lessons for beginners and advanced players. Free trial lesson. Online via Skype or Zoom.

Want to play but don't know where to start?

Learn to play violin with step-by-step instruction
Dear friends!
Welcome to my violin studio! I offer one-on-one private violin lessons online for kids and adults of all levels: beginner, intermediate and advanced. I am a professional violinist with 15 years of international experience performing in Europe, Latin America, and the United States.
I enjoy sharing my passion for violin and music by teaching and helping students of all ages to improve their own playing. My customizable lessons are thorough and complete, ensuring the quality of my teaching and the growth of my students.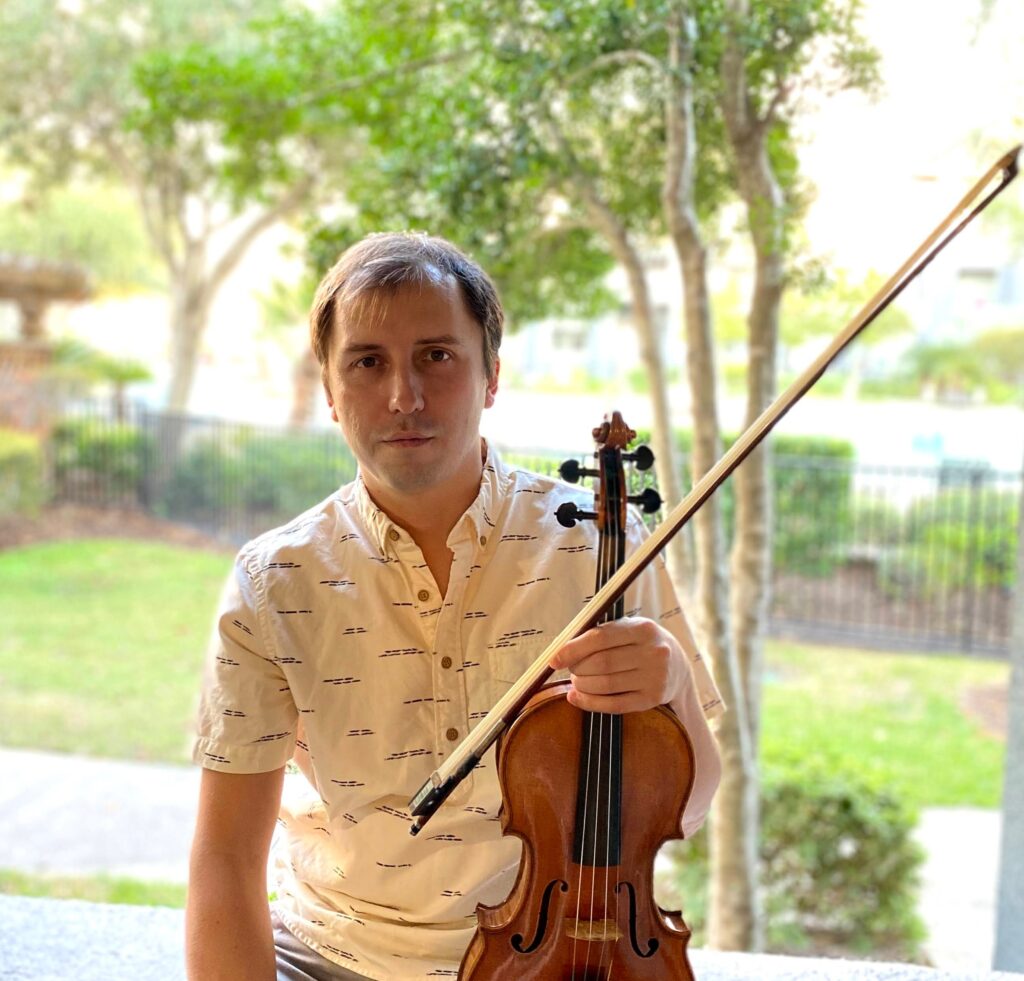 Learn violin basics such as:
Suzuki violin
Scales, arpeggios, double-stops
Intonation and how to play in tune
Performance preparation
Evaluate your posture and violin setup
Left-hand technique
Right-hand technique
Master your sound production
Violin for beginners
Learn how to sight-read music
Why take online violin lessons?

Avoid bad habits that will eventually result in frustration and lost

opportunities

Feel confident playing in a school orchestra

Participate in chamber and music performances

Prepare for Auditions

Perform with your friends and enjoy music making

Apply for a scholarship and succeed

Build your violin technique…

 
.
Be able to sight-read new music material and perform better 

Learn to tune and fine tune your violin on your own

Find out how to use a shoulder rest and a chinrest

Learn to play without a shoulder rest

Learn how to get rid of tension while playing

Get deeper sound by learning correct bow technique

Be able to change strings and do basic violin and viola maintenance
Welcome to my violin studio!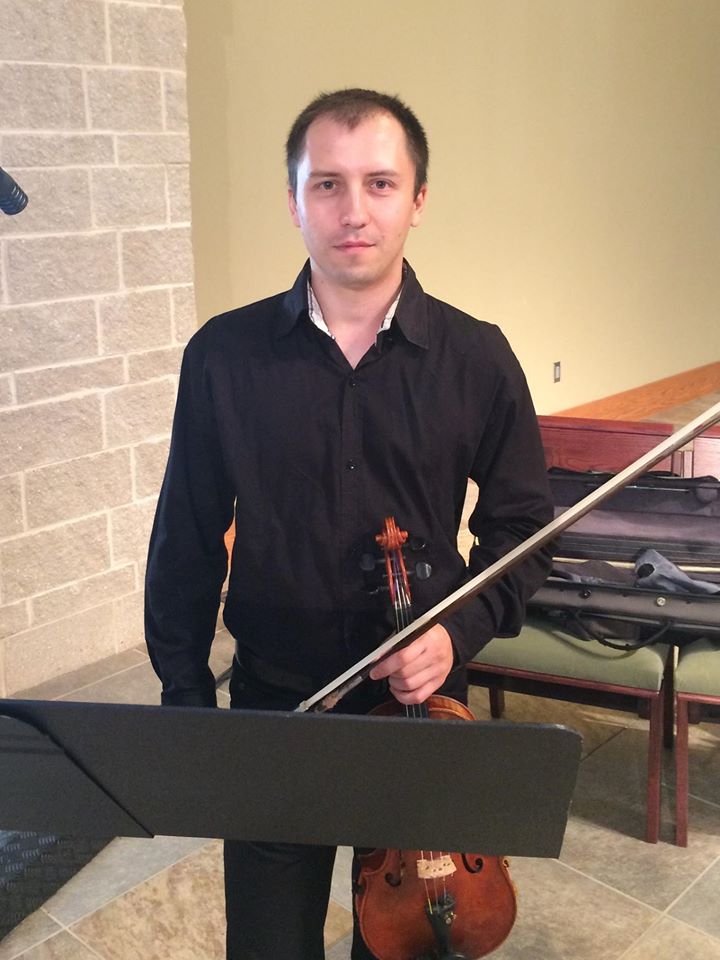 Vlad Evstafiev attended Jacobs School of Music at Indiana University on a music scholarship and graduated with a Performer Diploma in Violin Performance. He also holds a Master of Music degree from Glenn Korff School of Music at the University of Nebraska- Lincoln, where he studied on a full graduate assistantship with professor David Neely, a former student of the esteemed Joseph Gingold.
Vlad has over 15 years of experience playing in professional orchestras and chamber groups. His experience includes performances at The Bolshoi Theatre in Moscow, the Moscow State Philharmonic, Lincoln Symphony Orchestra, Owensboro Symphony, Austin Symphony, Houston Latin Philharmonic, San Luis Potosi Symphony in Mexico, Sioux City Symphony, etc. During his studies,
Vlad took various masterclasses with reputable soloists and chamber coaches such as Anton Miller, Anne Epperson, Jonathan Feldman, Simin Ganatra, Rebecca Fischer, Hyeyung Yoon,Rita Porfiris, Galina Shirinskaya, Gregory Beaver, etc.
Vlad also has experience teaching violin and viola in public schools and preparing violin students for regional and state competitions and orchestra auditions where they compete for prestigious awards and top chairs. He started offering violin lessons online as an alternative option to in-person lessons for students living elsewhere. His teaching method allows students to grow musically and technically in order to play with greater ease and inspiration. His unique approach differs by student and is customized depending on each individual player's level and preparation.
Vlad focuses on posture and technique primarily to ensure each student plays freely and without tension, since it's vital to build proper foundations and skills for further growth.
Vlad speaks English, Russian, and Spanish languages.
Book a violin lesson online today!
Violin Lessons Online are taught via Skype, Zoom, or Facetim
11 Benefits of Virtual Violin Learning
Modern circumstances call for a modern way of learning. Over the past few decades, we have seen a large shift to more online educational platforms for students to continue their learning and intellectual growth from home.  This fact holds true for music learning as well, which has seen the same shift to a virtual format.  But while some parents and students may have doubts about the effectiveness of virtual music learning compared to in-person tutoring, there are several factors and elements of virtual learning that can actually make it MORE effective for students of all ages and skill levels to see rapid improvement in their playing.  Let's take a deeper look at a few of these benefits as they apply specifically to remote violin learning.
The first and most obvious advantage of learning to play the violin from home is convenience. As no travel is required to attend virtual classes, time constraints are minimized, making it much easier to fit violin lessons into a busy parent/student schedule. This enhanced flexibility in scheduling allows for more time to be saved and used toward productive practice and rehearsal. This, in addition to the added comfort and freedom of being able to set up your chair and laptop in your bedroom, living room, or even a back porch or garden, makes virtual violin lessons much more convenient than in-person tutoring.
Since virtual learning means that commuting to and from your music teacher's studio is no longer part of the learning equation, this opens up your search for qualified teachers who do not necessarily live in your immediate area.  Whereas in-person music lessons restrict your options to teachers who live reasonably close to you, virtual lessons do not share any such restrictions (other than potential time zone differences), which means that you can schedule lessons with teachers anywhere and at any time.  This is to say that now more than ever before, highly-qualified and experienced music teachers (like myself!) from all corners of the globe are available to conduct lessons with students from all backgrounds.
Time is money, as they say, and this is true in the music learning world as well.  In the case of private lessons, the reduced time constraints and need to commute for virtual lessons means that most violin teachers charge considerably less for their virtual lessons than they do for in-person tutoring.  This makes online lessons a perfect option for anyone wanting to receive professional violin instruction and enhance their skills on a budget.
4. More Controlled Learning Pace
In addition to the added convenience, comfort, choice of teachers, and lower cost, virtual violin lessons also give the student more control in setting their own learning pace.  Whereas in-person lessons and especially group lessons can be dictated by the pace of other students with differing skill levels, virtual lessons can be tailored to each unique student's learning style and goals.  This means being able to set your own path and pace on a more customized music learning journey, which leads to greater enjoyment and more productive lesson time.
5. Ability to Record Lessons
One of the biggest advantages to virtual violin learning is the ability to record your lessons and rewatch them later.  This benefit allows the student to focus more on their playing and feedback during the lesson itself, knowing that any advice or instruction given by the teacher can be studied and played back later as many times as necessary for the information to be absorbed.  Furthermore, it is also highly beneficial for a student to be able to both see and hear themselves playing after the lesson has finished in order to gain a deeper understanding of their strengths and weaknesses.  This self-analysis can generate improved posture, technique, sound production, and overall playing quality.
6. Continued Practice After Lesson Ends
Just as virtual violin lessons remove the need to commute to and from the music studio, they also allow the student to immediately continue practicing as soon as the lesson ends.  This allows for a seamless transition from guided instruction to personal practice time, where the student can implement the teacher's advice and corrections while they are still fresh in the mind.  This heightened ability to stay "in the zone" and continue playing after the lesson has finished will encourage a deeper level of passion and confidence in students of all ages.
7. Parents Can Be Present
Virtual violin lessons conducted from the comfort of home also allow parents to be present during the lessons.  This added layer of transparency between all parties involved enables parents to be a more active participant in their child's music development, which enables them to develop a closer relationship to the teacher, understand directly what their child needs to work on and improve, and hold their child accountable to continue practicing and implementing the advice given by the teacher during the lessons.  Furthermore, since the parent is able to see and hear the teacher's instructions during the lessons, they are able to better assist their child during personal practice time.
8. Reduced Performance Anxiety
Some students may feel pressure and nervousness when playing in front of their peers.  Virtual lessons can counter or eliminate this performance anxiety by providing students with a safe space to play and practice without fear of making mistakes and sounding "bad."  Mistakes are an integral part of music learning (after all, errors provide us with a point from which to improve!), and for many students, this sense of freedom that comes from practicing in an environment free of criticism and comparison leads to greater confidence and enjoyment.  Moreover, when a student later plays in an in-person concert or audition, they will feel more confident in their abilities and more easily transition to playing in front of others.
9. Online Studio Group Classes
Although private virtual lessons can serve well to reduce performance anxiety in students who are still developing their skills, techniques, and confidence, it's also beneficial to experience playing with other students of differing levels in order to give and receive feedback and see where you stand.  A common practice among university-level musicians, online studio group lessons are generally free and voluntary for all students with the same teacher, who encourages them to play amongst each other in a more performance-like setting.  These group sessions can lend more of a social aspect to music learning, where a sense of communal interaction and support can encourage students to continue studying and practicing in order to reach new heights in their music development.
10. Better Than Video Tutorials
The internet these days is flooded with thousands of videos and tutorials uploaded by teachers around the world who hope to spread their passion and knowledge to students of all levels.  While this is positive overall, it should be noted that blindly following these tutorials can oftentimes lead to the development of bad habits and improper technique, which will lead to problems down the road.  Moreover, the major drawback to these tutorials is that they present a one-size-fits-all approach to students, which can be detrimental to their learning since, as we said, each student is unique and should learn at their own pace based on their individual personality, body type, and learning style.  For this reason, virtual lessons should be considered first among serious violin students who are looking to receive more thorough and customized instruction and feedback on their playing so that errors may be corrected in real-time and bad habits can be reversed or avoided completely.
A final benefit of virtual violin lessons is that they can be made available to students of all ages, skill levels, and ability.  Where in-person tutoring can sometimes be restricted or tailored toward the "average" student, virtual lessons share no such restrictions.  This means that students with disabilities have the added option of being included just as easily into these customized virtual lessons, which leads to a greater feeling of acceptance and inclusiveness if in-person lessons require more effort and stress.  Since music is considered the universal language, it is only appropriate that ALL students, no matter their background or circumstances, should be invited along on this journey of creative discovery!
Now that you have a better understanding of the benefits included in virtual music learning, it's time to consider the best option for you or your child.  Virtual violin lessons are here to stay and should remain a prominent option for any student of any age, level, and ability who wants to improve their playing and take advantage of the myriad advantages of learning from home.  Contact me today to set up your free trial lesson!
Learn how to play violin and acquire new skills and technique
Learn how to hold a violin bow
Learn violin left-hand technique
Learn violin right-hand technique
Learn how to produce rich tone
Violin practice technique
Learn school orchestra music and prepare for auditions
Learn your favorite music and keep yourself inspired with violin playing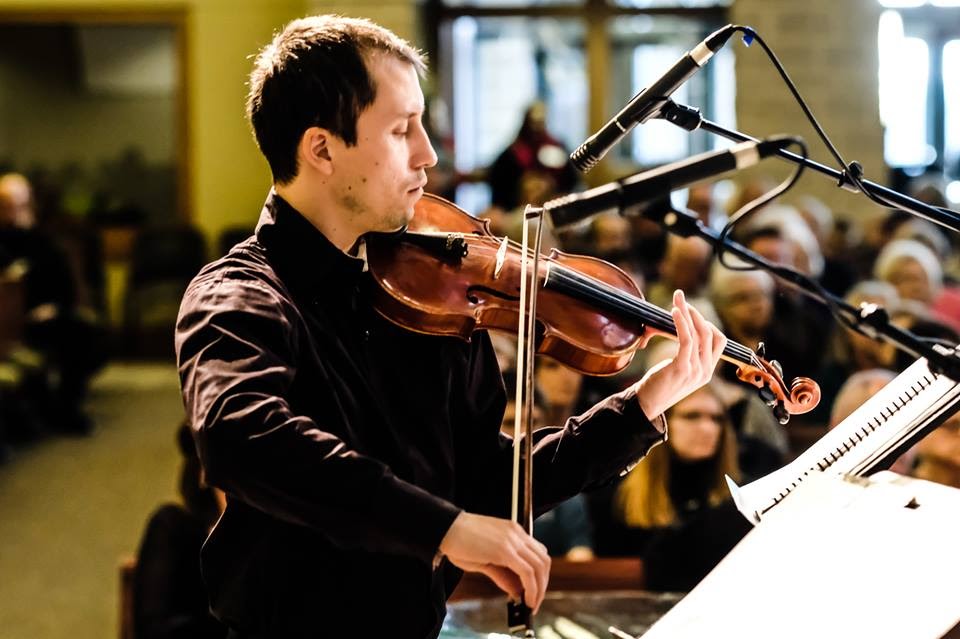 I work with students of all ages and levels and find inspiration in teaching anyone who wants and strives to improve their violin playing.
I have experience teaching students from middle schools, high schools, and colleges, helping them with entrance exams, auditions, and competitions. My approach differs and depends on your level and age. The first and most crucial part of the playing process is getting your posture correct.  I cannot emphasize enough that posture is the first step in your future development as a musician!  As musicians, we want to make sure that we don't damage our own muscles and tendons while playing. Sometimes while watching YouTube videos of the greatest violinists, we unconsciously copy their playing style without realizing that everyone is different and each player's set-up might not be a good fit for another.
Therefore, it is essential to understand the basics of violin playing and to develop your technique based on your feelings and proper arm movements. Learn to feel comfortable while playing and enjoy every second of it!
My lessons include: setting up your violin; choosing a proper chinrest that fits you well and fills the space between your collarbone and your chin; choosing a shoulder rest or shoulder pad; helping to place your violin; developing violin technique; working on posture issues; working on sound production; adjusting your bow hold, etc.
Violin lessons online is an excellent opportunity to learn how to play the violin and get valuable advice and insight from me. I teach in English, Spanish, and Russian languages.
You can book your free trial lesson here!
Ways that I can help improve your violin playing
Offer private violin tutoring in person and online.
take a genuine interest in your development as a musician and a violinist.
Find the best suited study program for your growth. Work on your technique and skills
Expand your repertoire and program planning.
Give you valuable advice on your goals and career opportunities
Teach you to understand how to analyze your playing and practice more efficiently.
Prepare you for an audition with confidence and success.
Receive my free professional feedback and advice when you sign up for lessons with me and send recordings of you playing
Relieve tension and muscle pain.
Help you to develop and improve important techniques like shifting, vibrato, left hand positioning, bow strokes etc.
Apart from Violin Lessons Online,  I offer in-home, one-on-one private violin lessons in the Houston area: Humble, Atascocita, Porter, Kingwood, and Katy. Currently, I am a private violin instructor at Kingwood and Atascocita High Schools, Humble and Katy ISDs'